Cosmetics in the 1920s - The beginning of the fashion revolution
After the long period of time where cosmetic products were frowned upon by general population, religions and fashion leaders in the west, beginning of the 20th century brought the beginning of the fashion revolution that propelled cosmetics to the popularity that it holds today. This change was propelled by the rapid advancements in chemistry, automated industrial production, communications between countries and continents, and the newly born rise of ballet, stage art, film and photography.
By the end of 19th century, fashion in the Europe and North America started slowly to shift from traditional Victorian styles to the new era of cosmetics. French manufacturers started producing first industrial made lipsticks, actors and stage dancers required advanced products for their new performances in front of the early black and white cameras. Their exploits finally started taking traction in early 1900s, sales of cosmetic started to rise and attract more and more attention. Chemist, cosmetologist, industrial magnates, and fashion designers quickly adopted this new thriving and profitable industry, making incredible advances in the span of few years.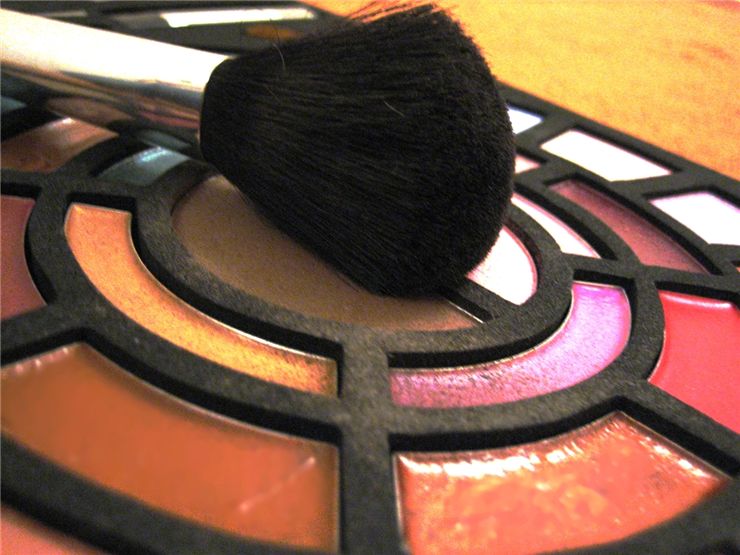 By 1920s, new generation of women that was raised in the environment of ever-changing fashion decided that the time has come to abandon tradition Victorian style and adopt something new. That new style that become worldwide phenomenon was Flapper, unique fashion style that used cosmetic to achieve look of dark eyes, red lips, red nail polish, blush, mascara and sun tan. With new cosmetic advances and products coming to the market every day, women of 1920s embraced this new life and started an era of nightlife, jazz music, sexuality, new age theater and art. In a sense, Flapper look was a direct reaction to the subdued and feminine pre-war styles of Victoria and "Gibson Girl".
New products such as lipstick (which was popularized by Maurice Levy's portable packaging in 1915), Suntan (Coco Chanel in 1920), mascara (Maybelline in 1917), synthetic hair dyes (1907), eyebrow pencils and others all gave fashion designers new ways to form new looks that were mostly popularized by famous actresses on stage and film, as well as music stars.
1930s was an age of art deco, where women reverted to pale skin, face powders, black eye makeup, thin lipstick coloring, and red nail colors. As World War II came, it managed to change fashion dramatically. War rationing limited the production of many cosmetic products, bringing a shift in fashion styles. During that decade natural look with simple and subdued cosmetic use was most popular, enabling the women who started working for the war industry to showcase their femininity even in the factory settings. Popular movie actresses of that time (such as Ava Gardner, Ingrid Bergman and Rita Hayworth) followed that trend, focusing their makeup almost exclusively to lipsticks and eyelashes that were pained in alluring but not overdone styles.